Margie Bars
1/2 box old fashioned graham crackers
2 sticks butter
1 cup dark brown sugar
2 cups shredded coconut
2 large bags chocolate chips
1 cup chopped peanuts
2 cans condensed milk

Heat oven to 400 degrees

Thoroughly butter the sides and bottom of a 8 1/2 x 11 inch glass baking dish. Bring butter to room temperature. Put graham crackers in a paper bag, and crush with a rolling pin till there are no large pieces. In a medium mixing bowl, combine graham crackers, butter, and brown sugar. Press mixture firmly to bottom only (like a thick crust) of the pan.
Sprinkle a thin even layer of coconut. Follow with a thin layer of chocolate chips, then peanuts. Continue to layer all ingredients till all are used.
Place in center of oven, and bake for 10 minutes. Reduce oven to 325 degrees and continue to cook for 40 more minutes, or till golden brown on coconut.
Allow to cool naturally for 1 hour, then place in refrigerator for at least 4 hours to cool. If possible, remove entire square, then cut into 3 inch squares.
Margie Bars
Olive's Potato Salad
6 medium red potatoes - boiled well with skin
1 tbsp. butter or cooking oil
1 tsp. celery seed
4 hard-boiled eggs
1 1/2 cup mayonnaise
1 Tbsp. Mustard
2 stalks Celery - finely chopped
1 medium yellow Onion - finely chopped
1 tsp. Salt
2 tsp. coarse ground Black Pepper
1 tsp. rubbed sage
Chop Potatoes into smaller cubes. Place in Medium mixing bowl, and toss with butter or oil and celery seed. Allow to cool completely. With a rubber spatula, gently fold in the remainder of ingredients. Refrigerate for at least 3 hours (or overnight) before serving.
Special Banana Bread
3/4 Cup Real Butter (Cold)
1/2 Cup Milk (or Mocha Mix)
1/4 Cup Brown Sugar
1 1/2 Cup White Sugar
1 1/2 Cup Bananas (or 3 Medium bananas)
2 tsp. Vanilla
1/4 tsp. Almond Extract
4 Eggs
1 tsp. Salt
3 Cups Unbleached Flour
1 1/2 tsp. Baking Soda
1/2 tsp. nutmeg
3/4 Cup Raisins (steamed*)
Butter (for pans)
Wax Paper
Oven 350F
2 - 8x4" Loaf Pans (Small)
Butter pans, then cut wax paper to only cover bottoms of pans. Press on bottom of pan to adhere and push out air bubbles. In large mixer bowl, cut butter into large chunks. Add milk, sugars, then mix at medium speed for 30 seconds. Break bananas into large pieces into bowl. Add vanilla, almond, and eggs. Mix on medium speed till air bubbles begin to form (not frothy). Set aside.
In separate bowl, combine salt, flour, soda, nutmeg, and raisins. Fold dry mixture into wet mixture, just until combined. Pour half into each pan, and bake for 1 hour in center of oven, separating pans0 3 inches from each other. Toothpick test may work best.
*Steamed raisins: Place raisins in a small saucepan with 1/4 cup water, and allow to simmer on med-low stovetop heat for about 15-20 minutes, or just till plumped up.
Zucchini Bread (Alternate to Banana Bread)
Zucchini may be substituted for Bananas. Make the following simple changes:
Exchange to:
2 cups shredded Zucchini (remove bananas)
Do not add: Almond Extract, Nutmeg or Raisins.
Bake 4-5 Minutes less.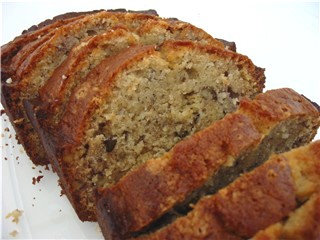 Olive's Banana Bread
Breakfast Pancakes
*This recipe is a slight variation to the regular pancakes, but Olive had her special way of making them extra good with a few additions. These will stick to your gut - guaranteed.
Bisquick Baking Mix (Completed Pancake Recipe) for 12-14 cakes
(Using Milk instead of water)
Additionally to the recipe: 1 egg
Instead of using cooking oil, use a tablespoon of bacon drippings to grease the heated pan for each pancake. When pouring, allow the pancake batter to remain thick on the pan, very slightly spreading the batter out. Pour about a cup for each pancake.
Will make about 6-8 of Olive's Pancakes.
Scalloped Potatoes
1/2 cup patty or 3 links Sage Breakfast sausage
3 large russet potatoes, sliced very thin with skin
1/2 onion - diced
1/2 stalk celery - chopped
1/2 cup chopped cheddar cheese
1/2 cup milk
Salt
Plenty of Black Pepper
In a large cast iron skillet, cook sausage on medium heat, and break up pieces until very small. Lay down sliced potatoes and onion flatly on pan. Allow to cook on medium for about 15 minutes. Reduce to low, then add in celery and cheese and continue to cook for 15 more minutes. Add in Milk, salt and pepper, and simmer for 20 minutes. Remove from heat, and allow to cool slightly (10 minutes), then serve by slicing into pan scooping out pieces like pie.
Scalloped Potatoes